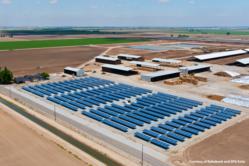 Agriculture gets greener everyday. Lakeside Dairy in Hanford, Cali. has gone solar. The dairy installed a new solar energy system to power its milking barn and other dairy operations. With the system in place, they expect to cut their conventional energy use by 75 percent. The family-owned dairy has 7,000 head of cattle and a custom farming business. I don't know about you but I'm thinking a California cow is a happy cow!
The 891 kilowatt solar energy system was designed and installed by SPG Solar. It is comprised of 3,240 Suntech solar modules and two Solaron inverters. It is estimated that the system will generate more than 1.7 megawatt hours annually – enough to offset the dairy's utility power usage by at least 75 percent.
"The recent volatility of milk prices has underscored the importance of hedging our input costs," said Mike Monteiro, the dairy's owner. "The solar energy system will help us fix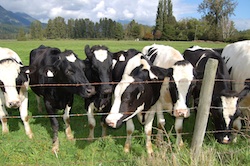 our energy costs and hedge against long term increases in utility power rates."
The solar system spans four-acres and is robust enough to power Lakeside's entire dairy operation including an 11,000 square foot milking barn, heifer corral lighting and fans, manure separator equipment and well and irrigation equipment. This is just one effort engaged by the diary operation to become more sustainable. The farm's manure-handling equipment removes nearly 50 tons of solid manure a day, thus preventing it from going into the lagoon or giving off gases from decomposition.
"Lakeside Dairy continues to show its commitment to solar that positively impacts their operations today, reducing future electricity costs and investing in the community through the creation of green jobs," said CEO and President of SPG Solar, Chris Robine. "They are laying out a long-term strategy towards the sustainable production and quality of food produced."
Rabobank provided the construction and term financing for the solar project and will work with Lakeside to help them manage their finances as they pay off the loan. Gianluca Signorelli, Vice President of Renewable Energy Finance for Rabobank added, "By combining the savings from lower utility power bills with federal and state incentives, Rabobank structured the term loan to potentially be cash flow positive throughout the lifetime of the loan. Once the loan is repaid, the solar system is likely to create even larger savings for Lakeside Dairy."