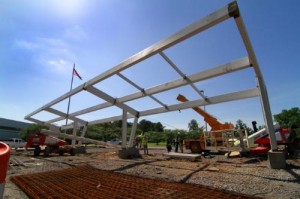 International car manufacturer Nissan North America has begun the installation of 30 solar charging stations at its Smyrna Vehicle Assembly Plant in Franklin, Tennessee. This project is one of dozens that Nissan has invested in the state totaling more than $3.5 billion over 30 years. The solar chargers are designed to charge the Nissan LEAF, an all electric vehicle (EV) that debuted globally last December. Soon, the plant will begin building the LEAF as well as assembling that batteries that power the EV in an advanced, lithium-ion battery plant that is 75 percent complete. It is expected to be operation in the Fall of 2012.
"Tennessee is Nissan's home in the Americas region," said Carlos Tavares, chairman, Nissan Americas. "These solar-assisted charging stations demonstrate our dedication to a zero-emissions society, and our dedication to bringing innovation to our home in Tennessee. Nissan in the coming year will expand our manufacturing presence, enhance our philanthropic efforts and make new additions to our headquarters operations, all in Tennessee."
Interestingly, the solar charging station employs the same lithium-ion battery that also powers the LEAF. This project not only allows Nissan to study the battery's storage capacity, but also demonstrates a second-life opportunity for lithium-ion batteries beyond their use in automotive applications.
The U.S. Department of Energy is funding the stations through a matching grant. In addition, Nissan will share the usage and technical data from the solar chargers with Oak Ridge National Laboratory and the Tennessee Valley Authority for further study.