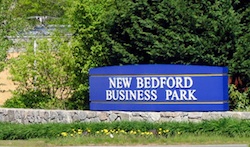 Con Edison Development now owns and operates the largest operating solar power system in New England. The ten-acre solar facility is located in the New Bedford Business Park, located between Dartmouth and New Bedford, Massachusetts. The 2-megawatt project consists of more than 8,000 ground mounted crystalline silicon panels generating enough electricity to power 2,000 average sized homes.
"As New England's premier solar facility, this project represents a giant step forward toward creation of an emissions-free environment," said Mark Noyes, vice president of Con Edison Development. "Con Edison Development is proud to be working with the Commonwealth of Massachusetts and the New Bedford Business Park to reduce greenhouse gases while we promote America's energy independence."
The state passed a Green Communities Act and Renewable Energy Portfolio Standard that calls for a statewide target of 400 MW of solar generation. This is the first of many projects that will help the state meets is goals and the project was embraced by the Town of Dartmouth Board of Selectmen, the Dartmouth Conservation Commission and the tenants of the business park.
Tom Davis, executive director of the Greater New Bedford Industrial Foundation added, "This is a problem-free project and the initiative constitutes a major win for the business park, which has attracted six renewable energy companies during the last five years."