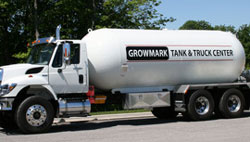 Because it is so important for their farmer members, propane is a big part of the energy business for GROWMARK.
Randy Miller, Director of Propane Operations says that they've been marketing propane for years. "Obviously, being ag-related, grain drying is a big part of our propane business," he says, adding that the last couple of years have increased demand for grain drying.
Miller says home heat is also important and they have recently expanded their territory significantly, including into the northeast. "We're always looking for new markets," he said. "We're seeing some interest from major cities as far as using propane as a fuel for city buses. It's a very clean fuel, burns very clean, very little residue or exhaust."
GROWMARK negotiates their supply of propane on behalf of members with the flexibility to deliver to areas when and where it is most needed.
Listen to Chuck Zimmerman's interview with Randy Miller here about the GROWMARK propane business: Randy Miller Interview