Murphy, North Carolina a small community in Cherokee County, has a new 1 megawatt (MW) solar farm designed, engineered, procured, installed, and managed by ESA Renewables. The solar power system is located on 16 acres in the heart of the Appalachian Mountains. In order to optimize the installation and ensure maximum energy generation, 26 feet of dirt was leveled. The power generated by the solar system will be sold back to the Tennessee Valley Authority, who manages the local utility grid.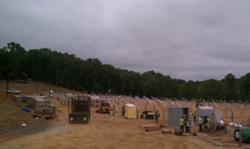 "Renewable energy installations like Wingate aid the movement toward clean solar energy powering homes and businesses across the country," said Jeffrey Burkett, president of ESA Renewables. "ESA is pleased to be an integral part of that movement."
The solar array consists of around 4,340 230 watt Canadian Solar polycrystalline modules, which, ESA says are known for their industry leading PTC efficiency ratings. Now operational, the system could produce an estimated 1.3 million kilowatt-hours each year, which is enough to power more than 150 average sized homes. In addition, it is estimated that the PV system will reduce carbon emissions of 936 tons of CO2 a year, which is the equivalent of 4,681 trees sequestered annually.
"The installation of this clean energy project has had a large community impact through job creation. Eighteen local construction workers, supervisors, electricians and engineers have been employed since its inception," added Burkett.