The InterContinental San Francisco has chosen ParkPod to install its electric vehicle charger for its Zipcar Hybrid Electric Vehicle. The hotel was recently awarded LEED Gold certification by the US Green Building Council that includes operational efficiency as well as minimizing environmental impact.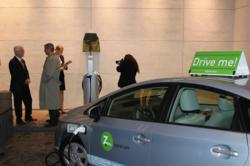 "We're thrilled to play a part in the InterContinental San Francisco's initiative and offer our congratulations to them on achieving LEED Gold certification. ParkPod is committed to helping our partners generate real business value from the provision of electric vehicle charging, and this is a perfect example. We look forward to a great relationship with the Intercontinental San Francisco and City Park," said Tom Brigham, ParkPod's Vice President of Business Development – North America.
City Park is the hotel's parking management provider, as such, they made the direct investment in the charging station. The company will also manage its day-to-day operations. Research has shown that one key to ensure EVs gain widespread adoption, the availability of charging stations are a must.
"We are happy to be involved in the project at the InterContinental, as both companies' values regarding green practices are truly aligned. Looking forward, we are leading the charge to pursue additional opportunities at the other fine hotels we serve, and see electric vehicle charging stations as one of the amenities that benefits the hotels, their guests, and our community," said Spencer Sechler, director of sales and marketing, for City Park.
InterContinental San Francisco General Manager Peter Koehler added, "The InterContinental San Francisco supports ongoing efforts to be responsible and sustainable in every area of our business. Having a Zipcar Toyota Hybrid Electric Vehicle charged by ParkPod on property further demonstrates our commitment to advancing green business and consumer practices."