A new E85 station has opened in Redwood City, California, the hometown of Propel Fuels. As gas prices remain high, more and more California motorists are moving to renewable fuels to fill their tanks. This is just one of many E85 stations that Propel plans on opening in the Bay area (San Francisco). In an event to officially open the station, Redwood City Mayor Jeff Ira was on hand along with Jack Broadbent, Executive Officer of the Bay Area Air Quality Management District. Also showcased was the latest in renewable fuel vehicle technology from General Motors and Mercedes-Benz.
"Propel is a perfect example of the type of company we're looking to attract here in Redwood City," said Mayor Jeff Ira. "We're very proud to be the home of such a forward-looking company that is poised to do great things for the economy and environment in California."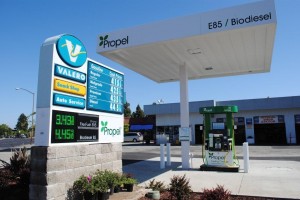 Broadbent added, "Motor vehicles are the largest source of air pollution in the Bay Area. Carpooling, keeping your car tuned, and using lower-carbon fuels is something many drivers can do now to help reduce air pollution."
Propel is the leading retailer of E85 and biodiesel on the West Coast. The company operates its Clean Fuel Points (stations) throughout California and Washington State, with more than 75 sites planned across California within the next year. In California, there are more than 1 million flex-fuel vehicles and nearly 20 million across the U.S.
"People feel powerless in the face of rising gas prices. Beginning today, we're providing drivers on the Peninsula something they've never had – true choice at the pump. We're offering a way to make progress towards reducing our nation's dependence on petroleum fuel and the carbon emissions from our vehicles," said Matt Horton, CEO of Propel.
Propel's newest station is co-located at the Redwood City Valero station at 503 Whipple Avenue (at the intersection of Whipple Avenue and Veterans Boulevard) in Redwood City. As part of the opening celebration on May 17-20, Propel will provide Redwood City drivers and fleets ten dollars of free E85 Flex Fuel or Biodiesel. The free fuel promotion encourages local drivers to experience filling with clean, quality certified, renewable fuels.