KiOR has had a busy week. They recently announced a ground fuel supply agreement with FedEx. Under the agreement, KiOR will supply renewable diesel blendstocks for purchase by affiliates of FedEx Corporate Services. This is the company's first end-user agreement. The oil will be produced at the company's first commercial production facility in Columbus, Mississippi that is scheduled to go online in the second half of 2012. KiOR has broken ground on the plant, and when in production will convert 500 tons of biomass a day into 11 million gallons of oil.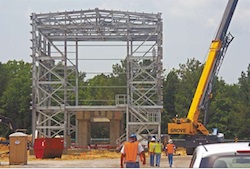 "We are excited to be working with a premier transportation company like FedEx," said Fred Cannon, KiOR's President and CEO. "This agreement with the services company of direct end users is another step toward delivering our fuel blendstocks to the market."
In addition to the agreement with FedEx, KiOR also has an agreement with the Hunt Oil Refinery in Tuscaloosa, Alabama and Catchlight Energy, a joint venture between Weyerhaeuser and Chevron to provide oil. The oil can be processed at a refinery or used directly by cars, once the oil is refined into gasoline and diesel at the Columbus facility. This announcement was highlighted by Gov. Haley Barbour during a ceremonious groundbreaking ceremony.
The biorefinery has received local investments of $190 million and statewide more than $500 million. Once the first plant is complete, KiOR has plans to add four more sites, two in Mississippi and two with undetermined locations.
"This is an unbelievable accomplishment, and it's a game changer for our country," said Barbour.
Cannon added during the groundbreaking, "Every gallon or barrel of fuel we make in Columbus is a gallon or barrel of fuel we don't have to import from another country, some of which don't like America very much."