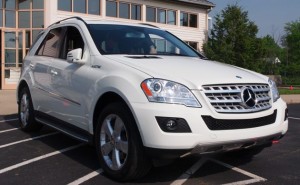 The first AMP electric Mercedes Benz, manufactured in Cincinnati, OH, has been delivered to Gisli Gislason, Chairman and CEO of Ireland-based Northern Lights Energy (NLE). This is the first in a contract worth $100 million to bring EV to Iceland. The car was "electrified" by AMP Electric Vehicles, a subsidiary of AMP Holding. This is the first EV delivered as part of a contract signed on April 14, 2011 with a larger volume of electric sport utility vehicles to be produced beginning in September.
"The demand for SUVs is very high in Iceland at approximately 35% of new vehicle sales," said James Taylor, CEO AMP. "Our AMP Electric Mercedes ML SUV fits NLE and Iceland's needs perfectly. The vehicle comfortably fits five people, and offers the efficient performance of 100 miles per charge. We are very pleased to have presented the first vehicle, and look forward to supplying the rest of this 1,000 vehicle agreement."
NLE believes Iceland is a very suitable venue for EVs because most of the country's electricity is derived from a combination of hydro power and geothermal resources, making the electric supply extremely economical versus expensive imported gasoline.
Gisli Gislason, Chairman and CEO of Northern Lights Energy, added, "We were very excited to receive and drive the AMP Mercedes ML EV today. The vehicle drove extremely well, and I feel will fit perfectly in our Iceland program. We have fifty Icelandic companies and government offices, including the Ministry of the Environment, signed up to host electric vehicle charging and to convert their fleets to 100% electric vehicles and their expectations are high. In my opinion, this AMP EV will meet and exceed all expectations."
Although the first 1,000 EVs will all be earmarked for Iceland, there are plans to expand the sales territory throughout the Nordic region to include Finland, Sweden, Norway, Denmark, and the Faroe Islands.