The Bay Area is the home of three new electric vehicle (EV) charging stations. 350Green, in partnership with Simon Property Group, will install one EV charging station at the Stanford Shopping Center, one at Santa Rosa Plaza and one at Coddingtown Mall. These are the first three major shopping areas to offer EV charging in the Bay Area while consumer shop.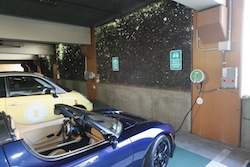 "We are thrilled to offer our shoppers easy and convenient access to charging stations, demonstrating our ongoing commitment to sustainability," said Kelly Hartsell, West Regional Vice President of Simon Property Group. "Our customers expect us to offer them goods and services that reflect their values. Known for being environmentally and socially conscious, the Bay Area is the perfect location to introduce this to our shoppers."
The "Level 2" charging stations are strategically located in mall parking lots. Shoppers at Stanford Shopping Center will have access to two chargers located in the Lower Level Parking Deck between Macy's and Bloomingdale's. At the Coddingtown Mall, a "Level 2" charging is located at the North Main Entrance and in Santa Rosa Plaza's the EV charging station will be located on its third level parking deck. The installations will be complete in the next 30 days.
Simon is working with 350Green for its Bay Area roll-out. The self-serve charging stations have the capability to "top off" or partially charge a customer's electric vehicle in a 90 to 120 minute time frame, allowing shoppers to leave their vehicles at the charging station while they are shopping or dining. Charging will be free during an introductory time period, after which 350Green will offer various pricing plans.
"Our partnership with Simon is an important part of expanding our network of EV charging stations in convenient locations throughout the Bay Area," said Mariana Gerzanych, 350Green's co-founder and CEO. "In doing so, we help advance the EV revolution by making it easier and more convenient to charge up an EV than to fill up a car with gas."