Canada's first lignin plant is operational and producing lignin for Canadian researchers according to an announcement made during the 2011 BIO World Congress. The plant is owned and operated by FPInnovations who is working in partnership with the Centre for Research and Innovation in the Bio-Economy (CRIBE), Natural Resources Canada (NRCAN) and AbitibiBowater. Lignin is a residual substance derived from the pulping process and in the biofuels process is broken down and converted into sugars, and ultimately biofuel.
The program partners are in the process of developing a black liquor and lignin evaluation centre in Thunder Bay, Ontario. At the core is the lignin demonstration plant that ties directly into the black liquor stream of AbitibiBowater's Thunder Bay kraft pulp mill. When fully operational, this one of its kind demonstration plant will produce up to 100 kg of lignin per day, which will be shipped to a network of R&D labs across Canada that are developing novel uses for wood products. Also located in this facility is a lignin characterization lab.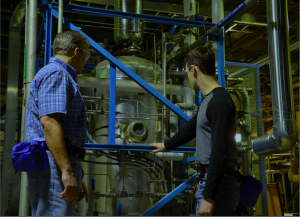 Lakehead University and its Biorefining Research Initiative will be closely linked to the ongoing research and will be training students and postdoctoral fellows at the facility.
"It is with cutting‐edge technologies and strong partnerships such as this one that FPInnovations is contributing to building the future of forestry in Canada," said Pierre Lapointe, President and Chief Executive Officer for FPInnovations. "The strong ties to Lakehead University are key to keeping technology and knowledge in the North. This only strengthens Lakehead's Biorefining Research Initiative and other related science programs by creating linkages with labs across Canada."
The is a huge potential market for lignin‐based products. It can be used as a green alternative to many petroleum‐derived substances, such as fuels, resins, rubber additives, thermoplastic blends, nutra‐ and pharmaceuticals, and more.
Doug Murray, General Manager of AbitibiBowater's Thunder Bay Operations, added, "The lignin evaluation plant provides us an opportunity to move wood‐based products beyond traditional markets. We are pleased to have this innovative lab at our mill site and look forward to continued progress. We feel very fortunate to be part of this initiative."
View pictures from the 2011 BIO World Congress in my flickr photo album.