This month, testing will begin in Oregon on a new hydrogen fuel technology that works in tandem with diesel and gasoline engines to improve fuel efficiency, torque and horsepower and lower emissions. The technology was designed by Global Automotive Hydrogen Systems in Hong Kong. The system was first tested in Australia in 2010 by Pacific Transport, a trucking company. The hydrogen technology was installed in three Kenworth truck towing trailers that were each 180 feet long and weighed more than 280,000 pounds. The system produced an average increase in fuel efficiency of 23.5 percent over a typical 11,800 mile haul. Six trips were made and took into consideration various factors including terrain, wind and temperature, all elements that can affect fuel economy.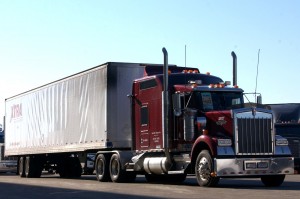 "This system has been tested in the largest truck and trailers driving anywhere in the world, and time and time again it produces significant improvements in fuel efficiency," said Larry Bright of Lakeside Distributing Network, Eugene, Ore., the North American distributor of the system. "Our testing in Oregon will confirm for the American audience what we already know about our system: it works and works very well."
The hydrogen technology will be installed in two trucks owned by McCracken Motor Freight based in Portland, Oregon. On May 9th, one truck will undergo a complete dynamometer test at Pacific Power Products in Ridgefield, Washington. This test is designed to verify increases in torque and horsepower, as well as any lowered emission levels or other results. The second truck will begin a two-day 1,200 mile road test. Final results will be announced May 12-13, 2011, in Eugene.
The system generates hydrogen from just over a gallon of potable water and then uses power generated by the alternator to fuel the hydrogen-generation process. The hydrogen is then fed into the vehicle's intake, providing a steady source of clean-burning fuel that supplements the diesel or gas already being used. An on board computer that comes with the system monitors the three critical elements to making the hydrogen: temperature, voltage and amperage.
Once testing is complete, Lakeside Distributing Network will only release limited amounts of information on the specifics of the system in order to protect the developer's patent applications.
Bright concluded, "I expect people to be skeptical. But, I've seen the results with my own eyes. And soon the people of Oregon will see it, too."