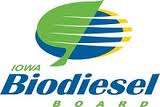 As reported yesterday by Cindy, there was big news in Iowa for the biodiesel industry. The state passed one of the most comprehensive biodiesel fuel policies in the U.S. that creates a system that incentivizes local production, encourages availability of biodiesel at the pump, and invests in the infrastructure needed for wide distribution. The renewable energy bill is known as Senate File 531 and was passed by a vote of 48-1.
Daniel Oh, COO of the Renewable Energy Group (REG) based in Ames, Iowa said, "REG applauds the members of the Iowa House and Senate for their strong support of the Iowa biodiesel industry. Approval of this bill by the Governor would make biodiesel more available to Iowans and reduce our nation's dependence on imported petroleum. Additional consumption of biodiesel by Iowans supports our state's green-collar workers and agricultural producers."
"REG is committed to being a reliable supplier of high quality biodiesel throughout the supply chain and we look forward to continuing to partner with retail diesel locations, farmer-owned cooperatives and petroleum refiners to make Iowa a biodiesel utilization leader," added Oh.
According to the Iowa Biodiesel Board the bill will do the following:
• Extend the Iowa biodiesel retailer credit, at 2 cents per gallon for blends of 2 percent biodiesel (B2) and 4.5 cents per gallon for 5 percent biodiesel (B5) in 2012, followed by 4.5 cents per gallon of B5 through 2017.
• Make it easier for petroleum marketers to achieve the credit.
• Add a biodiesel production incentive of 3 cents per gallon in 2012, 2.5 cents per gallon in 2013, and 2 cents per gallon in 2014 (for first 25 million gallons per producer).
• Provide $3 million a year to the Renewable Fuels Infrastructure Board.
• Give the Iowa Biodiesel Board a seat on the Renewable Fuels Infrastructure Board.
Randy Olson, Executive Director of the Iowa Biodiesel Board said of the biodiesel bill, "This is legislation that truly makes Iowa biodiesel competitive in the national marketplace, and I commend our legislators for empowering our state's industry."
He urged Governor to sign the bill and noted that as a result of the federal Renewable Fuels Standard (RFS2) the biodiesel industry is positioned to sell 800 million gallons of biodiesel throughout the country. Of this, Iowa has the ability to produce 300 million gallons on its own and many believe that the states with the strongest policies will secure the largest share of the market.
"Putting biodiesel producers back to work is good for the state's economy, and also will help make Iowa the renewable energy capital of the world in the face of rising oil prices," Olson concluded.