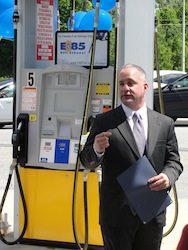 Pennsylvania is the home of its first flex fuel pump. Rhoads Energy worked with Growth Energy to install the pump at its station located at 2176 Paxton Street, Harrisburg, PA. The pump was installed with assistance provided from Growth Energy's 2010 E85 and Flex Fuel Pump Program.
"Providing consumers with greater access to ethanol will help reduce our dependence on foreign oil and strengthen our energy security. Growth Energy is pleased to have been able to assist in Rhoads Energy in their efforts and we hope that this Flex Fuel pump will be the first of many in the great state of Pennsylvania," said Growth Energy CEO Tom Buis.
Earlier today a ribbon-cutting ceremony took place with the Harrisburg Chamber of Commerce. The event celebrated both the availability of the flex fuel pump as well as various enhancements and upgrades to the station itself during recent months.
"We greatly appreciate the support Growth Energy provided during installation of Pennsylvania's very first Flex Fuel pump, which is located only two miles from the State Capitol," said Michael DeBerdine, President and CEO of Rhoads Energy. "In addition to the grant, their team offered guidance that proved invaluable as we navigated the process."
You can see a complete list of E85 and flex fuel pumps across the country by visiting www.E85Refueling.com.