A new report from the Milken Institute, "Turning Plants Into Products: Delivering on the Potential of Industrial Biotechnology," examines the challenges facing the industrial biotechnology sector and identifies market and policy based responses. In particular, the report found that biotech could play a significant role in the reduction of fossil fuel use, but struggles due to petroleum's price advantage. The report is a accumulation of the Institute's Financial Innovations Lab's results derived from discussions with experts and stakeholders on how the US could facilitate a better flow of private capital into companies focused on the production of bio-based products.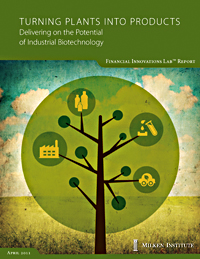 "There is much appeal for policymakers to invest in expanding the biotech-derived chemical industry. In the long term, it has environmental advantages and offers an alternative to foreign oil," said Joel Kurtzman, executive director of the Milken Institute Center for a Sustainable Energy Future. "In the short term, it offers the immediate benefit of rural employment opportunity."
Industrial biotechnology uses living materials such as plants, algae, marine life, fungi and micro-organisms and biosolids to produce a wide range of products from chemicals to plastics to cosmetics. But unlike the petrochemicals industry, the industrial biotech industry is not well established and doesn't have the advantages of economies of scale and established operating efficiencies. So to encourage further development the industry will need an organized cooperation of local, state and federal governments along with support from the investment community, trade organizations and academia.
Turning Plants in Products suggests several courses of action to mitigate current challenges and increase the chances of success: establish concrete, long-term government policies; create prize forums; utilize established resources; and create innovative securitization.
Kurtzman added, "The industry needs to find the momentum to get companies past the funding gaps and on to commercial-scale production. This will require continued investment in R&D, supported by the government and public-private partnerships, to make the investment less risky and to increase the efficacy of the technology. We believe the results will be greatly worth the effort."
The Financial Innovations Lab that led to the development of the Institute report was funded in part by the Office of Energy Policy and New Uses at the U.S. Department of Agriculture.