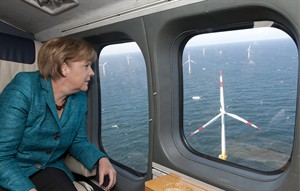 Germany has inaugurated its first offshore wind farm located in the Baltic Sea. Now that the project is operational, it is the country's second offshore wind farm to go online. To commemorate the achievement, German Chancellor Angela Merkel was onsite to mark the occasion. The 50 megawatt (MW) wind part is expected to generate up to 185 gigawatts hours of electricity each year, enough to power about 50,000 average sized German homes. This wind farm project is part of the country's offshore wind "gold rush" in the North Sea and Baltic Sea and marks another project that will get Germany closer to its renewable energy goals.
"Germany's offshore wind industry is taking off. Two parks off two very different coasts have been completed and others are in development. A pipeline is already in place to serve Europe's largest market and political backing for wind energy is strong. This recipe has led to manufacturers, suppliers and researchers lining up along the country's coastlines," said Anne Brautigam, wind energy expert at Germany Trade & Invest in Berlin.
The EnBW Baltic 1 wind farm is comprised of 21 turbines, at a water depth of 50-60 feet, located 10 miles from Germany's Baltic Coast. The power generated by the wind turbines are connected to the grid via several 410 feet tall transmission lines and the German grid operators covered a large share of the wind farm costs.
Germany generates 17 percent of its electricity needs via renewable energy with a majority coming from wind. Offshore park alpha ventus (60 MW) in the North Sea began operating last year and served as a cooperative test project for utilities, installers and manufacturers. In development is the BARD Offshore 1 (400 MW) project in the North Sea as well as several other projects including Baltic 2, Dan Tysk, (each 288 MW) Nordsee Ost (295 MW), and Amrumbank West (300 MW).