Sun and algae go together like peanut butter and jelly. Just ask Karl Seitz, Co-Founder of Heliae. I sat down with Seitz during the Advanced Biofuels Leadership Conference in DC to learn a little more about his company and their technology. The first unique attribute of the company is their name. Heli is Greek for the sun and the ae was added for algae so their name is the combination of the sun and algae.
Heliae was formed about four years ago when the team met two professors at Arizona State University (ASU) who told them about a new process by which they could take algae and turn it into jet fuel. The more they heard and understood about the technology, the more hooked they became.
"We looked in to it more and what was of particular interest to us was that their particular strains of algae grew very rapidly, doubled its weight every day, it was high in oil content, greater than 30 percent, and it had the right oil components," said Seitz. That means it has a component of carbon that goes from C8 to C16 and that happens to be roughly the same carbon string that kerosene has. Kerosene is the main component of aviation fuel."
Another pro of algae, said Seitz, is that not only can you produce fuel, but also food.
Listen to my full interview with Karl Seitz: Heliae - Measuring Algae by the Barrel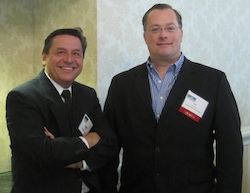 I asked Seitz about their technology and how they were going to go from pilot to commercial scale. "We're going to start off with our proprietary strains of algae and improve upon them. We do not use a GMO strain. We use a strain that has been chemically altered and provides us with higher oil content and a faster growth rate," said Seitz. "We also combine that with our closed photobioreactor and then we use our proprietary and patented extraction formulas and techniques to get the fuel out as well as the protein and carbohydrates."
Seitz said the other issue they are focusing on is developing algae strains that are suited for different parts of the country or different regions around the world.
There are still questions about whether or not algal fuels and products can be competitive with petroleum based fuels and products. Seitz said their initial goal was to produce one barrel per day per acre and at that rate they think they can be competitive. And while many other companies are measuring success by the liter or the gallon, Heliae is measuring success by the barrel. The reason is that the world needs billions of barrels of renewable fuels to replace just aviation fuels. So in the future, Heliae hopes to play a major role in helping the world achieve that goal.
Click here to view the Advanced Biofuels Leadership Conference flickr photo album.