"When we embarked on this project three years ago, we thought by the time we reached commercial scale, like we have today, there would be plenty of demand for algae biomass to produce these products," said Todd Becker, CEO of Green Plains Renewable Energy (GPRE) during the dedication of BioProcess Algae's Grower Harvester bioreactors. This dedication signaled the last stage to commercialization for algae fuels and by-products as part of the partnership between the two companies that was forged several years ago.
"All we wanted to do was become the farmer of this product and grow and harvest algae. What we have discovered is that we've moved faster than the downstream markets have developed," said Becker.
The event was held in Shenandoah, Iowa, the home of the only co-located first and advanced biofuels plant and also the former headquarters of GPRE before growing and moving to Omaha. Today, GPRE is publicly traded, is the fourth largest producer of ethanol in the U.S and owns and operates nine ethanol plants in six states. Directly employing nearly 600 people, the company expects revenues for 2011 to reach the $3 billion mark.
But maybe why GPRE is so excited about this project, is that they are demonstrating to the world that carbon has value. "What this represents is a true intersection between first generation technologies and advanced technology. What we are showing today to the world is not only does carbon have value, but carbon and other by-products from this ethanol plant, like warm water and heat, can create a product that will give Americans food, feed and fuel," said Becker.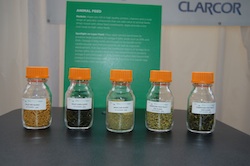 GPRE and BioProcess Algae have discovered as they reach commercial stage, that they will have to help create the markets for algae fuels and by-products. This month, they are beginning feed trails with Iowa State University that they hope will show the value of a high protein animal product for animal feed. In addition, they are looking to produce products for the food markets including antioxidants, pigments, Omega-3s, and protein. In the energy markets, they are looking at producing biodiesel, a biocrude product as well as producing ethanol from the algae.
So what is the vision of the project? Becker concluded, "It's still very early days of the technology, but if successful, our vision is to create a process that captures carbon dioxide from every ethanol plant in the United States, use that input to grow and harvest algae, reduce the production plant's carbon footprint from neutral to negative, and takes the output from the reactors, the algae, and produces next generation fuels, ethanol and energy."
Click here to view the Flickr photo album from the BioProcess Algae/GPRE Grower Harvester event.