Rochester Hills, Michigan is the home of the newest propane autogas station. The site was commemorated during a ribbon-cutting ceremony today that featured the recently installed 1,000 gallon propane fuel tank by Ferrellgas. Also on hand for the event was Wright & Fillippis, who unveiled 12 new propane autogas powered Ford E-350 and F-450 cargo vans that featured the ROUSH CleanTech technology. Clean Energy Coalition rounded out the group.
A DOE Recovery and Reinvestment Act grant secured by the Clean Energy Coalition enabled the conversions of the cargo vans to propane and helped to pay for the propane fuel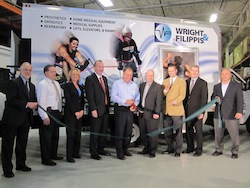 tank installation. "Clean Energy Coalition provides funding and resources for partnerships like ROUSH CleanTech and Wright & Filippis to flourish," said Sean Reed, executive director for Clean Energy Coalition. "These partnerships are resulting in remarkable advances in alternative fueling options and making it difficult for any transportation company to say 'no' to cleaner, more cost-effective alternatives for their fleets."
Wright & Filippis' fleet vehicles travel more than 975,000 miles each year to serve patients needing home delivery of medical products. By switching to propane autogas, the company's fleet is expected save more than $3,000 per vehicle, burn 48,000 fewer gallons of gasoline and potentially eliminate more than 930,000 pounds of carbon dioxide from its yearly carbon footprint.
"We can't take chances when we are delivering products that are critical to people's lives," said A.J. Filippis, president of Wright & Filippis. "We have to make sure our vehicles are reliable, and we have that comfort level by utilizing propane autogas to power them." He continued by noting that these companies are "putting into play opportunities for other local companies" to take advantage of the technologies.
Todd Mouw, vice president of sales and marketing at ROUSH CleanTech added, "Propane autogas powered vehicles help reduce our dependence on foreign oil because 90 percent of U.S. propane supplies are domestic. We're proud to develop new technologies that utilize alternative fuel sources to help fleet operators, such as Wright & Filippis, meet their goals of reducing both the operating costs and carbon footprint of their fleet."