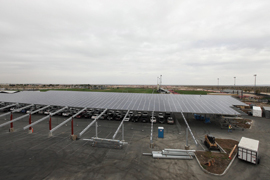 PsomasFMG was honored today for the completion of the country's largest solar power project at a school. Linda S. Adams, secretary of the California Environmental Protection Agency (Cal/EPA), has awarded the company a Certificate of Achievement in Sustainability for their public-private partnership project for the Antelope Valley Union High School District (AVUHSD). The $52 million, 9.6 megawatt (MW) design-build project covers 10 separate high schools.
"This project is an innovative green solution that serves as a model for other school districts and municipalities," said Secretary Adams. "Congratulations to the Antelope Valley Unified High School District and to PsomasFMG for demonstrating that 'going green' can save money and create jobs while decreasing our dependence on fossil fuels."
The project broke ground in August of 2010 and was constructed without any financial cost to the district. It is estimated that over the next 20 years, the school district will save $40 million in energy costs and reduce greenhouse gas emissions nearly 250,000 tons. The system will provide 80 percent of the school districts electrical needs and their remaining needs will be purchased from Southern California Edison at a reduced rate.
Paul Mikos, executive vice president of PsomasFMG added, "It is enormously gratifying to receive recognition from the California Environmental Protection Agency for one of our first projects, which happens to be the largest school-based solar project in the United States. Moreover, our speed and agility in moving from concept to contract to power was exhilarating The success of this project shows that our model is an achievable solution for clients with long-term visions like the Antelope Valley Union High School District."