All eyes are on the biodiesel industry including those of the USDA and EPA. Last week, USDA Ag Secretary Tom Vilsack along with EPA Administrator Lisa Jackson, stopped by REG's Newton, Iowa biodiesel plant for a little learning and a hands-on biodiesel tour. During the event, the big question: will the biodiesel industry be able to meet RFS2 goals this year? The resounding answer is yes.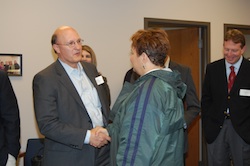 To learn more about the state of the biodiesel industry, I spoke with REG's Gary Haer, the company's VP of sales and marketing. "Right now all the biodiesel producers in the U.S. are getting back on their feet," said Haer. "Two thousand and ten was a very disruptive year for us because we had the lapse in the blenders tax credit. There was some question about the RFS2 being enforced and implemented and there was a legal challenge from the petroleum industry but that's been resolved."
"And so for 2011, we have the blender's tax credit back in place. We have the renewable fuels standard in force and we're starting to see the petroleum industry respond to that," continued Haer. "We're seeing an increase in demand and that's very good for our industry. It took a little while for us to see the demand in the Renewable Fuels Standard for biodiesel, but now we're starting to see that demand and the industry is responding by ramping up and production is going well."
Listen to my full interview with Gary Haer: REG Insights on Biodiesel State of the Industry
Exactly how much biodiesel does the industry need to produce and the obligated parties (Renewable Volume Obligation or RVO) need to blend for 2011? According to the EPA, 800 million gallons. Haer noted that the industry is not currently adding pace at a monthly production level where the industry can achieve the RFs goal, but he assured the USDA and EPA that the industry will respond. In fact, back in 2008 the industry nearly produced 800 million gallons so the capabilities are there.
Since fuel prices are on everyone's minds, I asked Haer about the economic benefits of biodiesel. He answered, "Biodiesel does provide some economic benefits to blenders. So because of the energy increase in fuel prices, gasoline and diesel prices, we're seeing some economic advantages to biodiesel blends. That enables the blending of biodiesel to take place widespread across the country. We're also seeing people and fleets that are searching for alternatives to recognize the value of biodiesel and what the opportunities are there as well. It's really been nice to see our industry respond in a way we can produce more gallons, as well at times, provide an economic benefit through cheaper fuel to customers across the country."
Click here to see photos from the USDA/EPA REG biodiesel plant briefing and tour.