Biomass is not just for energy. Crops like potatoes, corn, wheat, tapioca, sugar, and algae can also be used to produce plastics, or "bioplastics", a more sustainable alternative to petroleum-based plastics. Bioplastics are biodegradable and compostable and for those consumers looking to make a "greener" choice, Cereplast has unveiled a new bioplastics logo. The winner was announced on Earth Day Eve as part of Cereplast's "Make Your Mark" competition. Laura Howard, a graphic design student at the University of Louisville, Kentucky created the logo and was awarded $25,000 for her design that will be easily identifiable on products.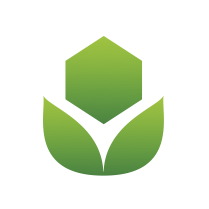 "We are excited to congratulate Laura Howard for designing a symbol that has the potential to become a revolutionary logo representing the next generation of plastics – plastics that protect and preserve our environment and are made from renewable resources," said Frederic Scheer, Chairman and CEO of Cereplast. "The new bioplastic symbol will be used in a similar fashion to the recycling symbol as it will be stamped on products, and it will serve as an identifying mark of bioplastic material."
Scheer continued, "Petroleum-based plastics can have a devastating impact on our environment. Approximately 300 million tons of plastic are produced globally each year.  At these quantities, we could wrap the entire planet several times over. Bioplastics offer a more respectful option for our environment, and we believe that this new symbol will help provide consumers with the tools they need to make more environmentally intelligent purchasing decisions."
The "Make Your Mark" campaign was designed after the 1970 contest that produced the now unmistakable "recycle" logo. The bioplastics logo design campaign received over 1,500 design entries and 2.8 million public votes. The top 200 designs were then judged a panel that included Dr. Gary Anderson, creator of the recycling symbol, Dr. Michael Thielen, Publisher of bioplastics MAGAZINE, and Karim Rashid, world-class industrial designer.
"Cereplast's bioplastic symbol could likely gain traction much faster than the recycling symbol I designed, as communication in today's digital landscape runs at lightning speed compared to forty years ago," said Dr. Gary Anderson, creator of the recycling symbol and "Make Your Mark" judge. "I am honored to be a part of this historic competition that has produced a symbol that will represent the environmental benefits of bioplastics."