A new report released during the U.S. Department of Energy's Solar America Cities Annual Meeting shows that governments and businesses that join together to purchase solar power can lower costs between 10-15 percent. "Purchasing Power: Best Practices Guide for Collaborative Solar Procurement," was issued by the World Resources Institute (WRI) and joint Venture: Silicon Valley Network (Joint Venture) and the two organizations are calling the power of group buying the 'Groupon' model for commercial solar power. The "Purchasing Power" guide also shows that group buying can save 75 percent in administrative time and fees and help participants better negotiate contract terms.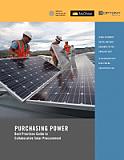 "This is the 'Groupon' model of solar purchasing," said Jenna Goodward, Associate, WRI, and co-author of the report. "It provides the tools small businesses and local governments need to save time and money by flexing their collective purchasing power. Our goal is to make it easier to buy solar power, help interested groups save money, and promote greater adoption of renewable energy nationwide."
The 2011 Solar America Cities Annual Meeting underway is focusing on two themes this year. First, how to reduce key barriers to solar market penetration and second how to remove administrative costs and hurdles. Both issues are addressed in the guide and a 12-step strategy walks private and public sector users through the entire process of buying solar energy, soup to nuts.
"It is crucial to break down barriers that keep small businesses and local governments from gaining access to renewable energy," said Rachel Massaro, Associate Director of Climate Initiatives for Joint Venture and co-author of the report. "The new 'Purchasing Power' guide offers an easy-to-follow, 12-step process that can lead to much broader market penetration for solar power."
WRI and Joint Venture developed the guide after piloting the first collaborative solar procurement projects in California. In Santa Clara County, the Silicon Valley Collaborative Renewable Energy Procurement Project represented nine local government agencies and 70 solar installations across more than 40 locations, totaling more than 14 MW of power at peak capacity.