United Sports, a multi-sport facility located in the Northeast, has announced they are partnering with Mercury Solar Systems, Sage Energy and Exelon Corporation to install an expansive solar energy and hydro power project. On hand for the project unveiling was Congress Jim Gerlach (PA 6th District) along with executives and employees from United Sports. The 207kW solar energy system consists of 1,035 panels that span the roof of the complex. The hydro power will be generated by tapping into the Conowingo Hydroelectric Generating Station in Darlington, MD. Combined, the two projects will provide two-thirds of the complex's energy needs.
"United Sports is excited about the positive energy decisions we are making with Sage Energy, Mercury Solar Systems and Exelon," said Ted van Beuren, President/CEO, United Sports. To think that two-thirds of our energy needs will be supplied through renewable solar and hydro power at a substantial savings is a win-win for all!"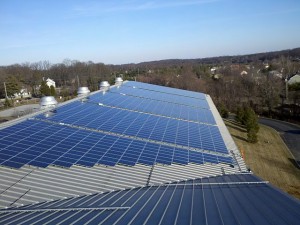 The company came up with some creative environmental equivalents to give consumers an idea of how much more "environmentally friendly" the complex will be with the solar and hydro projects. Over the lifetime of the projects, the amount of greenhouse gas emissions reductions would be equal to driving an average sized car 50,000,000 miles, flying 44 trips to the moon and back or planting over 175,000 trees.
"United Sports went the distance to incorporate cutting edge green technologies into the design of the complex," said Andrew Kleeman, Senior Vice President, New Markets at Mercury Solar Systems. "The solar system alone will generate enough energy to power 17 average sized homes but more importantly significant clean energy for the kids that actively play at the complex each and every year."
Peter Corbett, managing partner with Sage Energy added, "We at Sage Energy Investments are proud to be bringing solar and hydroelectric power to United Sports, the premier sports and recreation complex on the East Coast. Given the recent catastrophes of the Gulf oil spill and the nuclear meltdown in Japan, timing could not be better to showcase the viability of alternative energy strategies. With over 1,000,000 annual visitors, many impressionable youth, United Sports is the ideal location to get this message out and show that clean, renewable energy makes sense for the future of this country."