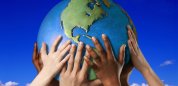 As we sit on the eve of Earth Day (Friday, April 22, 2011), our friends at the National Biodiesel Board have pointed out several tourist destinations that are friendly to the environment by using the green fuel biodiesel:

"Green tourism is more popular than ever, and biodiesel's ease-of-use and greenhouse gas reductions have made it a big part of that movement," said Joe Jobe, National Biodiesel Board CEO.
Here are a few of the tourist destinations where you can find biodiesel running behind the scenes:
* Orlando, Fla.: This family vacation hotspot has many choices for biodiesel-supported tourism, from the Jaws Ride at Universal Studios to the LYNX city transit system, which uses 20 percent biodiesel (B20) in all of its diesel buses. The Orlando area is also home to the next National Biodiesel Conference & Expo, Feb. 5 – 8!

* Central Park: The New York City Parks & Recreation Department is leading a green revolution in the Big Apple. The agency maintains more than 29,000 acres in New York City, including such well-known venues as Central Park, Battery Park, Flushing Meadows, Coney Island and more. Since 2006, the Parks Department's diesel fleet has run on B20. The Parks Department also uses B20 for 95 percent of heating oil sites.
* San Francisco: Spot a city bus, a fire truck, or a double-decker tour bus in San Francisco, and chances are pretty good that it is running on B20. The area's biodiesel enthusiasm even flows beyond the "City by the Bay" into the Bay itself, where some boats and ferries cruise on B20.

* Grand Canyon National Park: At the Grand Canyon, you can see nearly 2 billion years of the earth's geological history exposed through layer after layer of rock. Most visitors head for the South Rim, and there the diesel vehicles and equipment that service the park run on B20. These include backhoes, bobcats, snow plows, ambulances, pick-ups and more. There are also two biodiesel pumps at the filling station that Grand Canyon staff and their concessionaires use.

* Disneyland Resort: Millions of visitors ride the iconic steam train to get around Disneyland in Anaheim, Calif. But the steam train is actually fueled by 98 percent biodiesel (B98), and most of the biodiesel used is made from recycled cooking oil from the resort's kitchens. Biodiesel makes up 75 percent of the park's diesel consumption.