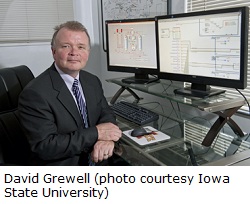 Researchers at Iowa State University have developed a simulator that allows them to replicate all the functions of biodiesel and ethanol plants.
According to this article from the school, the I-BOS (the Interactive Biorefinery Operations Simulator) will help students in Iowa State's biorenewable resources and technology program learn about biofuel production, as well as helping the biofuel industry train employees:
"This could be the major component of a curriculum for teaching biofuels operators how to run a plant," [David Grewell, an associate professor of agricultural and biosystems engineering] said. "It's like a flight simulator for pilots."
And like a good flight simulator, the virtual control room is calibrated to match real-world performance. It's based on differential calculations that describe the fundamental transport phenomena and incorporate the principles of mass and energy conservation. The simulations also take into account more than 20 specific production attributes including moisture, starch content, contaminants, temperature and particle size. All the attributes change as biomass is converted into biofuel. And they can be changed by instructors, giving students experience with a variety of production conditions.
The virtual control room is now written to simulate the operation of ethanol and biodiesel plants. It keeps track of energy consumption, production efficiency and fuel quality. It also features interactive video clips from real biofuel plants that give students a good look at the entire production process.
Grewell says the simulator will also help operators in case of an emergency at the plant.