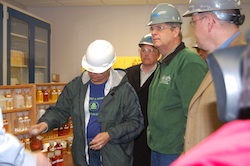 Renewable Energy Group (REG) executives hosted USDA Ag Secretary Tom Vilsack and EPA Administrator Lisa Jackson as well as leaders from the ethanol industry at their REG Newton biorefinery to discuss the role of advanced biofuels in meeting the President's energy independence goals. Also on hand for the event were representatives from Green Plains Renewable Energy (GPRE) and POET. Both companies have advanced biofuels projects located in Iowa and are working with REG to develop symbiotic efficiencies and products between the various forms of biofuels. Vilsack and Jackson along with local and regional members of their teams, engaged in both a briefing session highlighting the role biofuels play, including new technological advances in the industry, as well as a biodiesel plant tour.
REG President and COO, Daniel Oh, opened the roundtable discussion: "We applaud Secretary Vilsack and Administrator Jackson for their roles in implementing energy independence and clean air programs focused on enhancing advanced biofuels production and utilization. We appreciate our partners in the ethanol industry, Jeff Broin, CEO of POET, and Todd Becker, President and CEO of Green Plains Renewable Energy for joining us in highlighting the opportunities and challenges in the biodiesel and ethanol industries."
The biofuel leaders highlighted the importance of continuous process advancement for creating new opportunities. As the group headed to see REG's 30 million gallon per year biorefinery, Oh said, "Our production facility is proof that next‐generation advanced biofuel is commercially-available today. Our Newton biorefinery is supporting 23 full‐time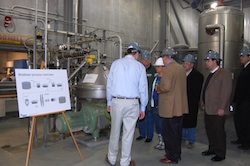 green collar jobs, regional economic development and Iowa agriculture.
While on the tour, REG showcased the wide variety of raw materials it uses to produce biodiesel and highlighted one of the industry's more recent feedstocks, inedible corn oil, which is an emerging co-product from the ethanol industry and also an emerging feedstock to create biodiesel. Less than two weeks ago, POET announced it's new corn oil product, VOILA, and plans to install the technology at all 27 of its plants. REG has been working with corn oil since 2007.
While at REG's facility, Jackson was impressed with how the biofuel industry has evolved. She noted the industry has not stood still and has continually adapted. She highlighted the biodiesel industry's recognition that they needed to change and diversify its feedstocks and acknowledged their accomplishments in this arena.
Vilsack agreed and added that the industry has showcased continued success and continued innovation and commended both the agricultural industry and biofuels industry for always stepping up to plate. He concluded that the industry has never let the country down and will rise once again to meet the country's and the world's food, fuel and fiber challenges.
Click here to see photos from the USDA/EPA REG biodiesel plant briefing and tour.