There is a new website available for fleet managers who are interested in using propane autogas. The Southeast Propane Autogas Development Program has launched www.usepropaneautogas.com. The program is funded through the American Recovery & Reinvestment Act and the U.S. Department of Energy's Clean Cities. The goal of the program is to work with fleet managers interested in converting to a cleaner burning fuel. Today, propane autogas is the third most used transportation fuel globally behind gasoline and diesel.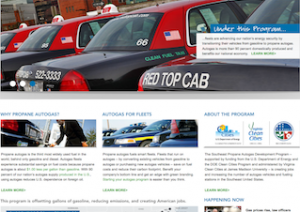 "We are excited to launch this website, which not only highlights our fleet partners and successes, but also serves as a resource for fleet owners and managers who are looking for unbiased information about propane autogas vehicles and fueling," said Chelsea Jenkins, director of Virginia Clean Cities, whom is administering the program. "Autogas reduces greenhouse gas emissions and is domestically produced, so autogas fleets can feel good about their fuel choice while reducing their operating and fuel costs."
Website features include:
·   Propane Autogas for Fleets
·   Fuel Savings Calculator
·   Fueling Station Information
The program, administered by the Virginia Department of Mines, Minerals and Energy, in conjunction with Virginia Clean Cities, is hoping to convert more than 1,000 vehicles, both fleet and public, to run on propane. In addition, they plan to install 25 propane autogas fueling stations throughout the Southeast.
"With gasoline prices on a steady rise, there has never been a better time for fleets to learn the bottom-line benefits of clean fuel alternatives like autogas We encourage private businesses and government organizations with vehicle fleets to explore the new site and find out what autogas can do for their fleets," concluded Jenkins.