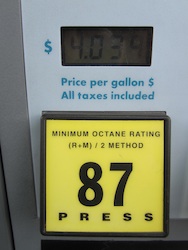 According to AAA's fuel-gauge report, this week the national average for one gallon of regular unleaded is $3.79 up from $2.86 last year, a 33 percent price hike. While it is higher in some areas and lower in others, price jumps at the pump are far from over. As the summer driving season nears, a new study estimates that pump prices will be more than 40 percent higher than last summer's gas prices.
According to the Energy Information Administration (EIA), regular-grade gasoline will average $3.86 across the country from April this September. Last year it averaged $2.76 per gallon throughout the summer driving months. The EIA also said that in some areas, monthly average prices could top the national average by at least 25 cents per gallon. This price trend appears to be accurate considering many cities have seen per gallon pump prices over the $4 mark since March.
The EIA report states, "The continuing economic recovery tends to boost gasoline and diesel fuel consumption, while the effect of higher retail prices tends to dampen it. These counterbalancing forces are expected to be prominent features of the summer driving season."
Also a concern – if gas prices continue to skyrocket, people will have to tighten the budgets and stop spending. This could spiral the country back into the recession.
So how badly will this hit the pocketbook? The EIA estimates that summer fuel costs will increase approximately $825 from last year's travel bringing the 2011 family's fuel bill to $3,360 this year. In addition, the report expects refiner acquisition costs of crude oil to average $112.50 per barrel this summer a 50 percent increase from summer 2010. With respect to wholesale gasoline margins (the difference between the wholesale price of gas and the refiner acquisition cost of crude) are forecast to be 47 percent higher than last year with an average of 53 cents a gallon.
The EIA believes the driving force behind the higher prices of oil and at the pump is the "continuing strength in worldwide liquid fuels consumption."