Electric vehicle (EV) drivers can now charge their EV's while they are shopping. Simon Property Group, a developer of retail real estate, has become one of the first retail developers to offer EV charging stations at its properties. Shoppers at Simon's Florida Mall in Orlando are the first recipients of the EV chargers – the installation was recently completed and the 'Level 2' charger has the ability to "top off" or partially charge a battery between 60 to 120 minutes. On the West Coast, shoppers frequenting the Standford Shopping Center in Palo Alto, CA will be able to charge up their cars by the end of this month. In both locations, shoppers will be able to "pull up and plug in" and after an introductory period a small fee structure will be determined.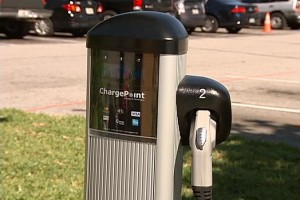 "We believe that a well-developed EV charging infrastructure is going to be key to the success of EVs," said George Caraghiaur, Simon Property Group's senior vice president of energy and procurement. "Meeting the needs of the first-to-market drivers of electric vehicles in the communities we serve is yet another example of our commitment to sustainability."
Simon is working with two companies during this initial rollout: Car Charging, Inc. installed the unit at Florida Mall and 350Green will install the charging units at Stanford Shopping Center.
Michael D. Farkas, CEO of Car Charging Group, Inc., said of the completion of the project, "Our collaboration with Simon Property Group is a prime example of our national growth strategy. By partnering with premier national property management companies for installations, we are able to rapidly deploy a nationwide roll out of a robust network of convenient charging stations. We are happy to have brought this amenity to customers at Florida Mall and look forward to bringing it to additional Simon Property Group locations across the nation."
350Green is quickly becoming a national leader in installing EV charging stations, and the company's founder and CEO, Mariana Gerzanych said her company is thrilled to be working on the project and expects many more charging stations to arrive in the Bay Area soon. "The goal is to make EV charging convenient and accessible to anyone who owns an EV – regardless of whether or not they have a charging station at their home or office."
EV industry experts predict there will be approximately 1 million EVs on U.S. roads by 2015. Some believe there could be as many as 27 million, or 10 percent of all the cars on the road, by 2020.