The propane industry is speaking out against a new bill introduced by backers of the Pickens Plan (aka T. Boone Pickens). The New Alternative Transportation to Give Americans Solutions Act (NAT GAS Act) would provide federal incentives for natural gas while excluding all other types of renewable energy. Supporters of propane autogas are upset and calling for federal legislators to stop cherry picking who will be the winners and losers in the alt energy race.
"If Boone and his team of lobbyists were serious about American energy security, they would include other American-made alternative fuels like propane autogas in their push for incentives," said Autogas for America founder Stuart Weidie. "Natural gas is an abundant natural resource, but it's not our only clean-burning alternative to gasoline and diesel. The NAT GAS Act doesn't give Americans solutions; it crowns a single solution as the victor."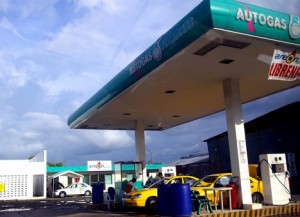 According to Autogas for America, 90 percent of the propane autogas is produced in America. Of this percent, 60 percent is generated from domestic natural gas refining. The organization also says propane autogas is less expensive than gasoline or diesel. Customized fleets that are operating with the fuel, on average, see more than $1.00 per gallon savings as compared to their previous fuel.
Weide continued, "Our legislature should not manipulate the market by giving a special interest advantage to one solution. They should recognize that taxpayers want multiple clean-fuel options to reduce harmful emissions and replace oil imports with affordable, American-made energy. The NAT GAS Act is an example of legislative cherry picking, the kind of legislation that skews the natural selection process that otherwise enables innovation in a free market economy."
ROUSH CleanTech, one of the companies that have deployed auto technologies to convert fleet vehicles to run on autogas is ready to support President Obama's energy goals, but is also frustrated with the introduction of the NAT Gas Act.
"An important, strong national energy policy was outlined by President Obama and Secretary Chu last week that will dramatically increase the adoption of fleet vehicles powered by domestically produced alternative fuels," said Joe Thompson, president of ROUSH CleanTech. "While we are supportive of all alternative fuels, we won't be as successful in achieving the President's vision if each industry introduces legislation that plays to their own agenda, like we saw with the introduction of the NATGAS Act.  Wouldn't we find the most success with one piece of legislation supporting all domestically produced alternative fuels?"
Several announcements were made last week surrounding the "greening" of fleets. The Environmental Protection Agency (EPA) announced a streamlined certification process for aftermarket alternative fuel conversion systems that make it easier for companies to offer alternative fuel conversions for a broad range of vehicle makes and models. Also last week, the Department of Energy together with the White House announced the National Clean Fleets Partnership. This program highlights the need for fleets to adopt "advanced technology vehicles or ones that use alternative fuels, such as electricity, natural gas, biodiesel, ethanol, hydrogen, or propane."