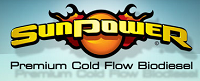 DRM Farms and SunPower Biodiesel have teamed up to find farmers in Wisconsin, Michigan, Minnesota and the Dakotas to grow canola for SunPower's Cumberland, WI refining operation to make its Premium Cold Flow Biodiesel:
Canola is quite adaptable with regard to soil type, and has shown profitability on marginal crop lands where other crops are not as feasible. It has revealed drought tolerance and preference to cooler temperatures, making canola ideal as a featured or alternative crop in the mid-western region of the United States.
The selling price for the seed will ultimately depend on the quality and current canola commodity values. Other oil seeds, such as sunflower, camelina and flax, will also be considered for purchase.
SunPower Biodiesel is getting some money for the project from the Wisconsin Clean Transportation Program, administered through the Wisconsin Office of Energy Independence and Wisconsin Clean Cities.