The National Biodiesel Board has joined the chorus of biofuel groups applauding President Obama's call for boosting the production of domestic fuels:
"The biodiesel industry is already poised for a record year in which we will displace nearly a billion gallons of petroleum with a renewable fuel produced right here in the United States," said Manning Feraci, NBB's Vice President of Federal Affairs. "We are ready and able to meet the nation's Advanced Biofuel goals and in the process create new jobs, improve the environment and enhance the nation's energy security."
As Cindy and Joanna reported earlier, other groups, including the Renewable Fuels Association, Growth Energy, the Biotechnology Industry Organization (BIO), and the Advanced Ethanol Council, have given their support to Obama's Blueprint for A Secure Energy Future that outlines a comprehensive national energy policy.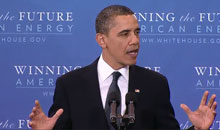 "Over the next two years, we'll help entrepreneurs break ground on four next-generation biorefineries – each with a capacity of more than 20 million gallons per year. And going forward, we should look for ways to reform biofuels incentives to make sure they meet today's challenges and save taxpayers money," Obama said.
NBB points out that biodiesel is America's first advanced biofuel.