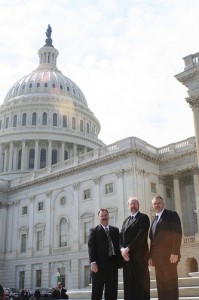 The "Biofuels Beltway March" is underway in Washington, D.C. and more than 60 grassroots members of the American Coalition for Ethanol (ACE) have their boots on the ground and are meeting with policy makers to set the record straight about ethanol. By the end of today, the ethanol advocates from 16 different states, will have engaged in 160 meetings with Members of Congress or their staff bringing ethanol information to Congressmen and Congresswomen representing 43 states.
I had a brief chance to speak with Executive Vice President Brian Jennings via Skype between meetings and he said the group's priorities during the meetings are to show the proven benefits of ethanol, promote fuel choice through Flexible Fuel Vehicles and blender pumps, and to reform the ethanol tax credit (VEETC) while preventing moves for its repeal.
Listen to Brian's Skype interview from D.C. here: Biofuels Beltway March Update From DC
Jennings stressed the importance of the timing of the fly-in and said that the ACE group will meet with nearly half of the freshman Members of Congress. More than half of this freshman group voted against E15 or blender pumps in the Continuing Resolution.
"We are not preaching to the choir. We're putting boots on the ground to meet one-on-one with people who need to learn the facts about ethanol, and we plan to make a real impact in these two days," Jennings added.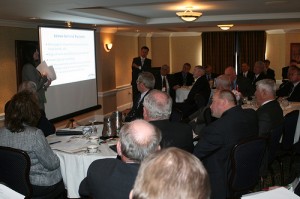 The group has been addressed by special guests USDA Under Secretary for Rural Development Dallas Tonsager, U.S. Senator Amy Klobuchar (D-MN), U.S. Senator John Thune (R-SD), part of the GOP leadership and member of the Senator Finance Committee which has jurisdiction over ethanol tax issues.
For those not able to attend but would like to get involved in ACE's grassroots efforts, can check out their "Virtual Fly-In" campaign and send messages to Members of Congress coinciding with their face-to-face meetings. The messages urge Congress to vote against Senator Coburn's (R-OK) amendment to repeal the Volumetric Ethanol Excise Tax Credit (VEETC). Messages may be sent this week through ACE's Legislative Action Center.
You can also view photos from the meetings in their "Biofuels Beltway March" photo album.