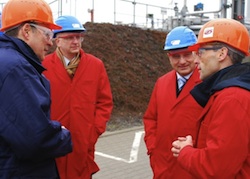 Rainer Bomba, Undersecretary of State in the Federal Ministry of Transport, Building and Urban Development, visited CHOREN's Beta plant at Freiberg in the German state of Saxony. His purpose of the visit was to discuss the progress of CHOREN on producing sustainable advanced biofuels and their role in achieving climate protection targets.
"Last year, the Beta plant completed several campaigns of synthesis gas trial production, successfully producing from wood a synthesis gas that is free of tar and aromatics on an industrial scale," said CHOREN's CEO Marcell Ulrichs.
Bomba said of his visit, "Industrial-scale BTL production may turn into a milestone in the future use of bioenergy. Therefore I very much hope that the development work of recent years will be rewarded and that the plant will run smoothly. We are planning to make greater use of renewable energies in the transportation sector, too. That includes biofuels – and BTL has particularly high potential in this respect, because far more biological material can be used than is currently the case."
CHOREN said that there are several benefits of their biosynthetic fuel including significant CO2 reduction, no competition with food production and excellent compatibility with existing drive systems. The Beta plant in Freiberg has an annual capacity of 18 million litres of BTL (biomass to liquid) fuel. CHOREN said they are very active in various projects around the world to construct more BTL plants due to the need for sustainable biofuels.
Professor Dr. Jürgen Leohold, Head of Group Research at Volkswagen AG and a member of the CHOREN supervisory board, added, "BTL is a key technology in reducing greenhouse gas emissions sustainably in the transportation sector."