Today is World Water Day and Green For All, an environmental non-profit organization, has partnered with SIGG USA, the maker of reusable aluminum water bottles, to kick off the "Keep It Fresh" public education campaign as part of the 2011 Campus Consciousness Tour. The campaign features hip-hop superstar Wiz Khalifa. The campaign kicked off today and ends on Earth Day, April 22, 2011.
Today, approximately 1 percent of the Earth's freshwater is easily accessible. In the United States alone, 36 states are already experiencing or expect to experience water challenges that include pollution and shortages. Globally, 70 percent of all water used goes to agriculture followed by water used to create energy. According to the United Nations' Food and Agriculture Organization, on at least one-third of the world's cropland, water rather than land is the binding constraint – a real challenge as the world looks to feed 9 billion people by 2045-2050.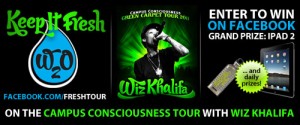 The goal of the Keep It Fresh campaign is to educate communities about today's water challenges using interactive online tools as well as onsite activities. The campaign is designed to raise awareness about the crisis-level water shortages, create personal action around water conservation and advocated for improving local water situations.
"We are proud to partner with the Campus Consciousness Tour featuring Wiz Khalifa for the 'Keep It Fresh' campaign to raise awareness about our clean water crisis and the economic opportunity provided in protecting our fresh water supply," stated Phaedra Ellis-Lamkins, CEO of Green For All. "Access to clean water isn't a future problem, it's a current problem facing many of us, particularly, many of our nation's low-income communities and communities of color. I am excited about this partnership's potential to create change through action."
The campaign chose Wiz Khalifa as a spokesperson because of his positive environmental stance on current issues facing America coupled with his unique ability to reach young adults throughout the country. As part of the promotions surrounding the campaign, people can register to win prizes including a free IPad2 and custom SIGG bottles on their Facebook fan page as well as the Keep It Fresh website.
Rob Dewar, President of SIGG North America concluded, "SIGG is proud to be partnering with Green For All in its mission to improve drinking water availability and awareness about the necessary steps needed to insure continued access to this basic necessity."