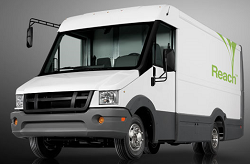 Japan-based auto maker Isuzu has debuted a utility van that will be more compatible with higher blends of biodiesel.
This company press release says the new Reach will not only be green, but it will last a long time, too:
Powering the Reach is Isuzu's state-of-the-art, biodiesel fuel compatible 4JJ1-TC 3.0-liter turbocharged engine generating 150 horsepower, mated to a Aisin medium-duty six-speed automatic transmission with double overdrive, lock-up torque converter and power take-off (PTO) function. In independent testing, this powertrain achieved a whopping 35 percent better mileage than traditional commercial vans. This impressive fuel economy does not come at the expense of long-term durability; the engine has class-leading B10 durability ratings of 310,000 miles, meaning that 90% will reach that mileage before requiring an overhaul…
Combining efficiency, performance and durability with clean-diesel technology, the Reach offers both low cost of ownership and environmental friendliness—the ideal combination for our times.
You can get the Reach in 10-, 12- and 14-foot versions.