The Victorian government is participating in an Electric Vehicle Trial and as part of creating awareness about electric vehicles (EVs) in Australia the "Oz Goes Electric" tour is kicking off on March 16. The featured EV is the Tesla Roadster, an electric sports car, that will travel 3,000 kilometers along the Eastern coast of the country to demonstrate that electric is sleek, sexy and speedy.
The tour begins at the Sofitel Hotel in Melbourne with officials from the Victorian government and Department of Transportation. From there, the tour will head to Victoria, New South Wales and Queensland. When the Tesla Roadster arrives in each town, not only will the EV be on display, but people will be able to participate in test drive events.
"The Victorian government's Electric Vehicle Trial aims to improve awareness, understanding and acceptance of electric vehicles," said Kristian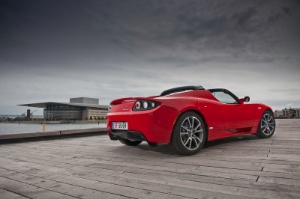 Handberg, project manager for the Department of Transportation. "The trial is bringing vehicles, drivers, charging points, energy suppliers and other market participants together to build the foundations of Victoria's electric vehicle market and make Victoria an EV-friendly place."
According to Tesla, the handmade, carbon fiber Roadster is the only car that delivers supercar performance with zero tailpipe emissions. The Roadster is powered by the most energy-dense battery in the industry, and accelerates from 0 to 100 kph in less than 4 seconds while consuming no petroleum. It can travel 360 km on a single charge and plugs into nearly any electrical outlet. The Tesla Roadster holds the record for distance driven on a single charge in a production electric vehicle, which was broken driving 501 kilometers in Australia. The EV also requires less routine maintenance than conventional cars, requiring no oil changes or smog checks, and has no spark plugs or pistons to replace.
"This road trip is a milestone. It's the first time an electric vehicle has traveled a significant distance in Australia, charging along the way," said Jay McCormack, Australian National Sales Manager for Tesla. "Many Australians will be seeing an EV for the first time, and we want them to see with their own eyes that electric cars can perform just as well as conventional cars without the emissions."
The Roadster is the only sports car in the world that can be fully charged with renewable sources of energy. Throughout the Oz Goes Electric Tour, the Roadster will charge using solar, wind, hydro and biomass energy provided by major utility AGL Resources. You can follow Tesla's Australian adventure here.