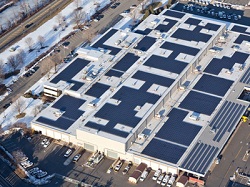 New Jersey's oldest and largest publicly owned utility has put in a 921-kilowatt rooftop solar at the power provider's Central Division Headquarters.
With some help from Solis Partners, a leading developer and integrator of commercial solar power systems, Public Service Electric and Gas Company (PSE&G) put in the U.S.-made SolarWorld flat, glass-plated crystalline panels and Solyndra thin film panels, part of a plan by PSE&G's plan to invest $515 million on 80 megawatts of solar projects around the state between 2009 and 2013:
"With the hard work and commitment of key state legislators, the BPU and utilities such as PSE&G, New Jersey has become the sixth largest solar market in the world and a national leader in installed solar capacity — second only to California," said Jamie Hahn, managing director of Solis Partners. "PSE&G's Solar 4 All program has been key to that achievement. This project exemplifies PSE&G's commitment to transforming underutilized commercial rooftops into clean renewable energy sources."
Rooftop solar makes tremendous sense for New Jersey, which has more flat commercial rooftops per square mile than any other state, said Gary Weisman, director of sales for Solis, in remarks at the event.
"These underutilized rooftop assets are the perfect platform for deploying distributed solar generation facilities where power is most needed," said Weisman. "Rooftop solar produces during the hours of peak demand, and provides power to the areas of the grid that need it the most — large commercial and industrial users."
The special cylindrical panels from Solyndra are designed especially for flat rooftops, covering more rooftop area and capturing more light than traditional solar panels.