The Cedro Hill wind project, located in Bruni a rural south Texas town, went online in December 2010. Today, Edison Mission Group (EMG), a subsidiary of Edison International, officially dedicated the first wind farm in the Southern part of the state. When the conditions are favorable, the wind farm has the capacity to generate up to 150 megawatts (MW) of power, enough to meet the needs of nearly 40,000 average homes. All of the power produced by the Cedro Hill is being sold to CPS Energy of San Antonio, under a 20-year power purchase agreement.
"We are pleased to officially dedicate the first wind energy project located in south Texas," said Pedro Pizarro, president of EMG. "Texas is an important state in the development of our renewable energy portfolio, and we look forward to generating clean, environmentally friendly power for the customers of CPS Energy."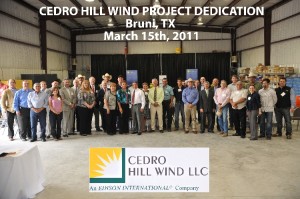 Cedro Hill is powered by 100 GE turbines with a generating capacity of 1.5 MW each. The wind farm spans nearly 20,000 acres. It interconnects to the electric grid at the La Quinta switching station and connects to CPS Energy through the 138-Kilvolt Lobo-Falfurrias transmission line. The total project investment was $300 million. For Webb County, where the project is located, the wind farm will provide the local economy with $100 million in property taxes and payments to local landowners over the next 20 years. In addition, the company will be contributing $250,000 to the Webb County Consolidated Independent School District for 10 years starting in 2013.
Richard Peña, CPS Energy senior vice president of Energy Development added, "Cedro Hill is a valuable addition to CPS Energy's renewable energy portfolio, providing 150 megawatts of green energy to the residents of San Antonio and the surrounding area.
Cedro Hill is EMG's third wind energy project in Texas, joining the 161-MW Wildorado Wind Ranch near Amarillo and the 149-MW Goat Wind project near San Angelo. EMG currently has 29 wind projects in 10 states with a total generating capacity of more than 1,800 MW of wind energy.