General Electric (GE) has introduced its 4.1-113 wind turbine, a four-megawatt (MW) class machine that is optimized for offshore use. In addition, the company has signed a contract to supply the turbines, along with other services, to Göteborg Energi for installation in the Gothenburg, Sweden harbor later this year. The project is supported by the Swedish Energy Agency. The announcement was made during the European Wind Energy Association's conference today. GE also has joined the Chalmers Wind Energy Center to collaborate on additional projects.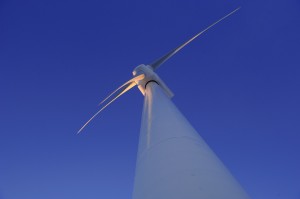 While Sweden sees great opportunity for growth in offshore wind, North America has seen nothing but hurdles. Even approved projects (Cape Wind) in the U.S. have stalled and Canada has also significantly slowed its offshore wind efforts.
"We are proud to announce the next milestone in our offshore strategy plan. Our 4.1-113 wind turbine represents our most advanced technology. It is the only direct-drive wind turbine designed specifically for offshore today," said Victor Abate, vice president—renewable energy for GE Power & Water. "With Göteborg Energi we have a great partner and we welcome the support of the local authorities on our project."
According to GE, there are fewer moving parts and the direct-drive technology provides a simple, reliable design with built-in redundancy and partial operation for major components. Combined, these improvements keep the turbines operating more reliably at sea. GE says the direct-drive technology eliminates costly gearbox parts, lowers operating expenses, and also relies on an innovative modular approach to maximize in-situ repair and reduce the need for large repair vessels. The 4.1-113 blade design is optimized to maximize energy capture.
"GE offers the most advanced technology with a proven platform and maximum output," said Jonas Cognell, director renewable electricity of Göteborg Energi. "In Sweden, there is still a lot of potential for the wind energy business, especially offshore."