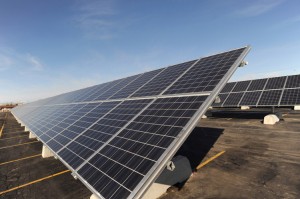 Ford Motor Company is now manufacturing American made-cars with solar power. The Ford Michigan Assembly Plant's solar installation currently provides 500 kilowatts (kW) of power for the plant and the solar facility will be integrated with a 705 kW energy storage facility that can store 2 million-watt hours of energy using batteries. This is enough to power 100 average Michigan homes for one year.
The plant is producing the Ford Focus and the Focus Electric as well as the C-MAX hybrid and the C-MAX Energi plug-in hybrid vehicles (PHEVs). Ford is using this solar project as a pilot for other assembly facilities. A secondary, smaller solar energy system will be integrated at Michigan Assembly to power lighting systems at the plant.
"This solar energy system allows us to test the viability of alternative energy to supply power for our manufacturing facilities around the world. It serves as a significant initiative within our corporate emphasis on sustainability," said Jim Tetreault, Ford vice president, North America Manufacturing. "[The] Michigan Assembly Plant has been transformed into a facility that embodies our drive for flexible manufacturing and strives for new standards for green manufacturing."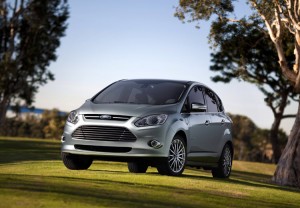 Partners in the project include DTE Energy, Xtreme Power, the city of Wayne, Michigan and the state. DTE Energy designed and installed the solar panels while Xtreme Power of Austin, Texas is supplying its Dynamic Power Resource on-site energy storage and power management system. Another key part of this project is the inclusion of a 50 kilowatt-hour facility to demonstrate the potential reuse of electric vehicle batteries for energy storage. Finally, Ford will install 10 electric vehicle charging stations at the plant. The EV charging stations will be used to recharge the electric switcher trucks that transport vehicle parts between adjacent buildings at the manufacturing site.
The Michigan Assembly project is funded by a $3 million investment from DTE Energy's SolarCurrents program, a $2 million grant from the Michigan Public Service Commission in support of the state's smart-grid initiative, and approximately $800,000 worth of in-kind contributions from Ford.
"This multimillion-dollar investment is just a portion of DTE Energy's commitment to renewable energy," said Trevor Lauer, DTE Energy vice president, Marketing & Renewables. "We're pleased to work with Ford as it takes another step to help the environment and with the state as it works to meet its renewable energy goals."