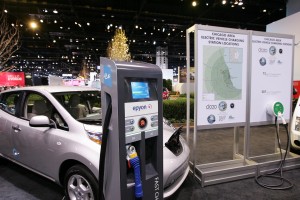 350Green, a national developer of electric vehicle (EV) charging station networks, has announced a partnership today with the Commonwealth of Pennsylvania to design, build and operate a network of 22 EV fast charging and 44 Level 2 charging stations across the state. This announcement comes on the heels of an announcement during the 2011 Chicago Auto Show where Illinois Governor Pat Quinn and officials from the City of Chicago selected 350Green to design, build and operate a network of 280 EV charging stations throughout the Chicago area. This will be the first and largest EV charging network of its kind in Chicago and the surrounding area.
The 350Green EV chargers in PA will be located in high-traffic urban shopping areas predominantly in and around Philadelphia and Pittsburgh, close to where commuters live and work. 350Green's network will provide an option for drivers who are looking for an alternative to high gas prices.
"This project addresses the chicken and egg problem of electric vehicles and charging stations," said Mariana Gerzanych, 350Green's co-founder and CEO. "By investing in public charging stations now, consumers can be confident that there will be convenient locations for charging their EVs when they roll into Pennsylvania. With gas at or near $4 a gallon, more and more people are looking for an alternative to petroleum."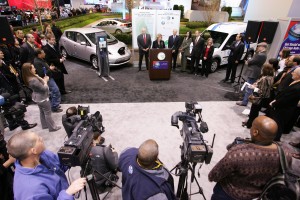 The project is part of the state's initiative to reduce greenhouse gas emissions to 30 percent below 2000 levels by 2020. Projections estimate that by 2015, 33,000 EVs will be on PA roads and by 2020 this number should be up to 400,000, or 7 percent of all the vehicles on the road in the state. Using these estimates, 350Green believes its EV charging network can help displace 228 million gallons of fuel, eliminating $3.7 billion in petroleum costs (using today's dollars). In addition, the charging network is estimated to remove 1,770,620 cumulative tones of CO2 each year.
As part of the project, the company has committed to hiring contractors and vendors based in the state. In addition, 350Green will open an in-state office to manage community outreach and education as well as reporting and operations. During the first phase, the construction operation and management of the 22 DC Fast and 44 Level 2 charging stations is anticipated to create six jobs. Phase two of the project will expand the EV charging network to communities surrounding Pittsburgh and Philadelphia. Construction will begin in the second half of 2011 and is scheduled to be complete by mid-2012.