In a Senate floor speech earlier this week, Senator Chuck Grassley (R-IA), a long-time supporter of biofuels, said, "Over the next few weeks, I'm going to do everything I can to educate my colleagues and the public on the benefits of domestic biofuels."
Grassley is concerned about the movement in DC to end ethanol subsidies and incentives as well as the amendments that passed the Congress that would keep the EPA from the ability to do its job bring American consumers E15 and block federal funds from being allocated to build out biofuel infrastructure. He is also concerned that people, nor his colleagues, are taking America's energy security and the country's dependence on foreign oil as serious enough threats.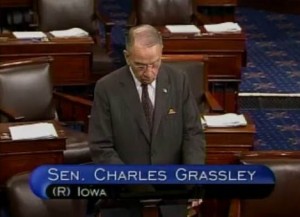 He began his speech with a few statistics about the rising cost of gas and the diminishing cash in American's wallets.
"According to the Energy Information Administration, gas prices jumped 19 cents during a one week period at the end of February. This is the second largest one-week jump in more than 20 years. American's are now paying an average of $3.38 a gallon for gasoline. This is 68 cents higher than this time last year. The average cost to fill up a tank of gas is likely around $50. For a family struggling to make ends meet, these are valuable dollars spent at that pump, going overseas.
Our country is at risk. Our economy is at risk. Our nation's security is at risk."
Grassley then went out to say that he believes for our country to thrive and grow, we need access to reliable affordable energy and this includes nuclear, clean coal, domestically drilled oil, and renewable energy like wind, solar, geothermal, and biofuels. However, he focused his speech on ethanol. At one point he said:
U.S. ethanol production is larger than what we import from Saudi Arabia or from Hugo Chavez's Venezuela. Without domestic biofuels, we'd be on bended knee even more than we are today begging others for oil. Ethanol is the only reliable, legitimate alternative to crude oil. Domestic ethanol currently accounts for nearly 10 percent of our transportation fuel. There is no other renewable fuel that comes close to achieving the economic, environmental and national security benefits currently delivered by ethanol.
Ultimately, the purpose of Senator Grassley speech was to announce plans for an educational campaign amongst his colleagues. He concluded by saying, "The American public deserves an honest, fact-based discussion about the benefits of reducing our dependence on people like Hugo Chavez and Moammar Kadafi."
Click here to read Senator Grassley's entire speech.