The City of Hayward, California has completed the installation of a 1 megawatt (MW) solar energy system  for the city's Water Pollution Control Facility (WPCF). The system will generated an estimated 1.95 megawatt hours of energy each year offsetting approximately 24 percent of the need's of WPCF. The facility treats nearly 12 million gallons of wastewater per day for the 220,000 people who live and work in the city of Hayward.
The system was designed and installed with the help of REC Solar. The solar system covers approximately eight acres within the WPCF, and utilizes ground-mounted, single-axis trackers along with 5,152 REC Group REC 225PE solar panels.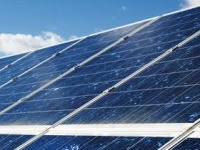 "I am very proud of what has been accomplished," said Hayward Mayor Michael Sweeney. "Environmental sustainability is one of the top priorities for the City Council. This solar energy system will provide a significant amount of power to the highest energy-consuming facility owned by the City and contribute substantially to our goal of reducing greenhouse gas emissions and the community's dependence on non-renewable energy sources."
The city adopted a Climate Action Plan in July 2009 to help them become more sustainable. Installing the solar system at WPCF was one component of meeting their plan. The project was made possible with financial assistance from the California Solar Initiative (CSI) and the California Energy Commission.
"Forward-thinking municipalities like Hayward are key to encouraging the adoption of renewable energy technologies, as they recognize both the environmental and economic benefits of large-scale solar installations like that at the Water Pollution Control Facility," said Kam Mofid, President of REC Solar, Inc. "It is particularly meaningful to provide clean energy to a facility dedicated to clean water and a cleaner environment. We are excited to contribute to the city of Hayward's sustainability efforts and help the community reduce its carbon footprint."