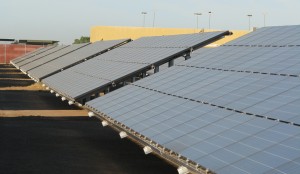 Kyocera Solar has completed the installation of solar electric systems in two Phoenix, Arizona schools: Copper Ridge in Scottsdale and Cholla Elementary in Casa Grande. The solar arrays were installed in partnership with SolarCity and featured Kyocera solar modules. Combined, the two solar systems will produce 764 kilowatts (kW) of electricity.
The Copper Ridge School's solar system is comprised of 2,387 Kyocera KD210 modules creating 500 kW of power. This is expected to produce 775,992 Kilowatt hours (kWh) each year and offset approximately 47 percent of the school's energy usage. The school was able to add solar power in part through a solar service agreement (SSA) which helps to offset some of the initial costs of the system, while still being able to reap immediate cost savings to their electricity bills.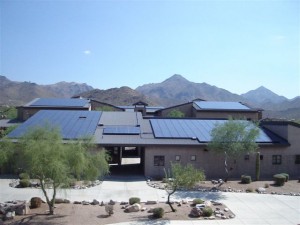 The Cholla Elementary School's solar system is a 264 kW comprised of 1,260 panels. Their system is expected to generate 364,000 kWh each year offsetting 70 percent of the school's energy use. The Casa Grande School District recently adopted an Energy and Water Conservation Plan, outlining energy-saving guidelines that included efforts for construction projects to follow LEED-certification processes. Their local utility company Arizona Public Service also provided a rebate to offset their solar installation costs.
"Solar energy provides a financially viable solution to offset rising electricity costs," said Steve Hill, president of Kyocera Solar, Inc. "It is most gratifying for Kyocera to participate in this growing trend among academic institutions to convert to solar power — the Copper Ridge and Cholla projects, and the recent 806kW installation at Sedona Red Rock High School, represent the opportunity to promote sustainable alternatives — and to work with partners such as SolarCity who make it a viable energy solution."