According to a new report from Pike Research, "Geothermal Power," geothermal capacity could double in 10 years. The report concludes that increasing investment in geothermal power could result in a 134 percent increase in total geothermal power between 2010-2020. In other words, an increase from 10.7 gigawatts (GW) to 25.1 GW worldwide when based on a high-growth scenario. Using a more moderate growth scenario closer to the current rate of growth, the report estimates capacity would increase 34 percent to 14.3 GW by 2020. Geothermal energy offers many benefits including the ability to provide almost 24 hour per day electricity production with little to no emissions.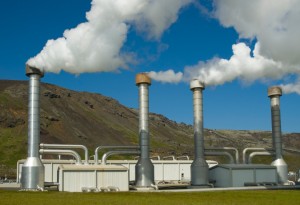 "Worldwide potential for geothermal energy is immense but geothermal remains an underutilized resource and represents only a small fraction of the global renewable energy portfolio," said senior analyst Peter Asmus. "Improved access to resource data, more efficient drilling processes, increased understanding about the industry's potential, and improving access to financing are driving expanding interest in the sector."
According to Asmus, the current geothermal capacity is spread across 26 countries with a combined output of nearly 67 terawatt hours (TWh) of electricity. The U.S. is the global leader with 3.1 GW of installed capacity while seven countries represent 88 percent of the global geothermal capacity. Although traditional geothermal resources make up the majority of installed capacity, enhanced geothermal systems (EGS) and co-produced wells both offer opportunities for expansion.
The high-growth scenario used in the study assumes continued and persistent volatility in the price of oil, tightening carbon regulations, improved access to capital, standardization of geothermal exploration data, contribution from EGS-enabled and co-produced resources, technological breakthroughs in exploration and drilling equipment, improved access to drills and skilled labor, and sustained policies supporting renewable energy mandates, grants, and tax subsidies.
Asmus added, "Even if progress falls short in these areas the potential for geothermal market expansion remains strong, and even our conservative business-as-usual forecast is consistent with growth rates observed in the industry since 1990."