ROUSH CleanTech's propane Ford E-Series passenger and cargo vans have been granted California Air Resources Board (CARB) certification status. With the strictest emission standards in the country, all vehicles have to have CARB approval before they can be sold and operated on California roads. Once CARB gives its stamp of approval, many other states follow suit.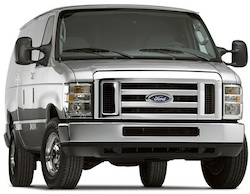 "This is truly exciting news for the ROUSH CleanTech team and our customers," said Joe Thompson, president of ROUSH CleanTech. "CARB certification is that final nod of approval needed to launch a full line of clean burning propane-autogas-powered passenger and cargo vans to fleet managers in California and other states, who have been eagerly awaiting the availability of our cost-effective alternative fuel solution."
With CARB approval ROUSH can now sell Ford E-150, E-250 and E-350 vans with propane technology. As such, Prime Time Shuttle, a ground transportation company that serves Los Angeles International Airport (LAX), will be incorporating the newly certified vans into their fleet. The company has 15 vans ready to go and will add another 35-40 over the next several months with its full fleet of 175 vans replaced with propane autogas technology within two years.
"We like what we see at ROUSH CleanTech," said Rattan Joea, president of Prime Time Shuttle. "We've wanted to add the autogas E-series vans for quite some time, but needed CARB certification to seal the deal. We can't wait to show our customers our commitment to a healthier environment with a reliable fleet of alternative fueled vans and shuttles, engineered with racing legend Jack Roush's dedication to superior automotive products."
The vans have already received air quality and emission approvals from the Environmental Protection Agency. Recently, the van was recognized with the "Propane Hero" award given to SuperShuttle for formidable performance as an alternative fuel vehicle at Phoenix Sky Harbor International Airport.