Spanning nearly 500 acres in western Martin County, Florida the first ever hybrid solar power plant connects a field of more than 190,000 solar thermal mirrors to an existing combined cycle natural gas power plant to produce energy. Known as the Martin Next Generation Solar Energy Center, the one of a kind facility is owned by Florida Power & Light Company (FPL) and was "put into service" with the help of Florida Gov. Rick Scott and Florida Senate President Mike Haridopolos among others.
"From job creation to cleaner air to energy security, this project demonstrates the many benefits of investing in large-scale renewable energy, especially in Florida," said FPL President and CEO Armando J. Olivera. "Leadership by the Florida Legislature in 2008 made this project and its myriad benefits possible. We're hopeful that today's leaders will take action to enable more cost-effective investments like this so we can continue taking dramatic steps forward to reduce our dependence on fossil fuels and get more Floridians back to work quickly."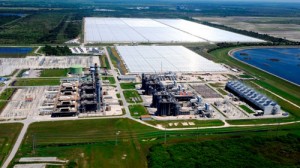 FPL's 75-megawatt Martin Next Generation Solar Energy Center will generate enough energy to power around 11,000 homes. The combined technology is expected to reduce fossil fuel consumption by approximately 41 billion cubic feet of natural gas and more than 600,000 barrels of oil and save FPL customers approximately $178 million in fuel costs over the facility's estimated 30-year lifetime.
"Energy security is critical to our national security. FPL's new hybrid solar facility is an important piece of an all-of-the-above energy solution, and I'm glad to see our state is once again leading the way toward a more secure energy future for Florida and America," said U.S. Rep. Tom Rooney (FL-16).
The center officially went into operation in November of 2010 and is the third of several large-scale solar projects completed by FPL in the past two years. Combined, the three solar plants deliver 110 megawatts of energy to Floridians. In addition, FPL is already planning another 500 MW of solar power projects for the state in upcoming months.