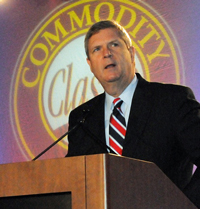 The man in charge at the USDA says American farmers are producing enough to provide the food AND fuel, in particular ethanol and biodiesel, this country needs.
During the recent Commodity Classic, Secretary of Agriculture Tom Vilsack took on the food vs. fuel debate head-on.
"It is irritating to me that we have to read about this all the time, because what it is basically is saying is that the folks advancing this argument either do not understand or do not accept the notion that our farmers are as productive and smart and innovative and creative enough to meet the needs of food and fuel and feed and export."
And Vilsack took the blame for food price increases off the American farmers and biofuels industry and put it on a more likely culprit.
"I think OPEC has more to do with food price increases than farmers," pointing out that even if you doubled the price of commodities, farmers, with their paltry 20 cents of every food dollar share, wouldn't see much of an increase in their pocketbooks.
Vilsack said that those who are trying to stop the opportunity for the nation to be more energy secure, while creating good-paying jobs in the biofuels industry, don't understand what is at stake.
"First and foremost, it is about national security. We import 60 percent of our oil. Sixty percent of the resources we spend on energy are traveling somewhere overseas probably to countries we don't agree with or don't like us. It makes far more sense to me to continue to provide opportunities for investment here in the United States."
Listen to more of Vilsack's comments on biofuels at Commodity Classic here: Vilsack on Biofuels at Commodity Classic